Are police accounts using #NotAllPolice to silence women speaking out?
All eyes are on the Met as they fight to keep Britain's largest police force from the chopping block, but are online police accounts derailing the work ahead?
As stories of police-perpetrated abuse against women continue to emerge, barrels of "bad apples" were dumped outside Metropolitan Police's headquarters last week by women's charity, Refuge. Public confidence in national policing is in crisis, lead firmly by Britain's largest police force. Can any trust be salvaged from an institution that continues to fail women? Or will the few officers intent on closing ranks see out the demolition of the service altogether?
The arrest of David Carrick who last week pleaded guilty to a staggering 49 offences, including 24 rapes over the past two decades, has once again rocked women's confidence in the Met police. That the force ignored a total of eight warnings about Carrick's abusive behaviour, from several women, has displayed the inadequacies of the force to tackle serial sexual offending by officers from within. This lead Downing Street to comment that faith in the police had been "shattered", adding "police forces must root out these officers to restore the public's trust."
The horror, outrage and distrust are all too familiar. The murder of Sarah Everard by another serving Met officer, Wayne Couzens. The jailing of the two Met officers who shared in police WhatsApp groups photographs of the bodies of Nicole Smallman and Bibaa Henry. Two years on from these sickening crimes, can serving officers blame the public outrage and the media coverage that now surrounds them?
For the few it seems, you can. Over the weekend social media accounts of serving and ex-police voiced dismay at a headteacher warning pupils at her all-girls' school "not to allow a lone policeman to approach you at any time." Fionnuala Kennedy, head of Wimbledon High School in south London, wrote her comments in a blog post after Carrick's crimes became public knowledge. She called the case "horrific" and said that she was "breathless with anger" about "the utter failing of the Met Police to protect girls and women".
Reaction from police accounts online called Ms Kennedy's comments "dangerous" and that they "smear" and '"demonise an entire profession", others compared stories of abuse within the Met to other professions such as "doctors, nurses, teachers and social workers," asking why there was "lack of media outcry" over those stories.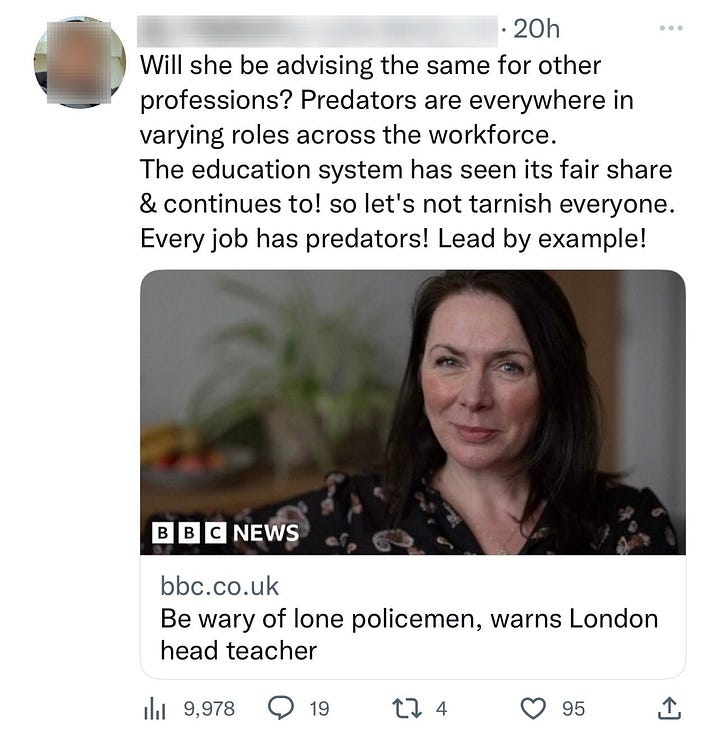 Disturbingly, the trend of responses from public police accounts is almost exclusively from ex/serving male officers and is most often associated to the #NotAllPolice hashtag that circulated online amidst the murder of Everard. The problematic nature that male police accounts are seeking to label the opinion of skilled women in senior safeguarding positions as 'dangerous' should not fall on deaf ears within the police community, nor should the responsibility to tackle abuse within the Met be deflected onto other professions of trust. Not all professions carry badges which gives them the authority to stop, search, threaten with arrest and put women in handcuffs.
Recent failures in policing highlight the boys-club culture from within that silences officers from speaking out about abuse, something former Met officer Alice Vinten knows all too well about.
Since leaving the force in 2015, Alice has been speaking out about the misogynistic 'canteen culture' that she says that exists within policing and recently shared her experiences of the abuse she regularly receives from police accounts online.
Soon after the murder of Sarah Everard, Alice noticed a 'large network of police accounts, mostly anonymous, who tweet on current policing stories'. After challenging the persons who ran the anonymous accounts Alice said, 'the abuse made me feel threatened, especially as it appeared to be coming from groups of powerful men,' who she says use 'sexist language' online.
Alice suspected the anonymous accounts belonged to police officers by identifying the knowledge they shared of policing phrases, tactics and images they posted inside vehicles and uniforms, as well as 'an avatar that is a police-related photo'.
Such abuse from police accounts is something that I have witnessed and experienced first-hand increase online. Having personally been targeted by malicious coordinated attacks from multiple sock puppet accounts (false identity accounts assumed by a member of an internet community), my Twitter account was banned in October. A notable police account claimed responsibility but soon after a Twitter employee reached out to me directly to confirm the error was a result of numerous false reports filed. Why did this occur? Because I seemingly shared women's accounts of police abuse.
The targeted banning of social media accounts is a common tale I have witnessed happen against women who speak out against police abuse online.
The activity of police accounts on social media is a fundamentally ignored part of policing. This abuse receives little coverage in the news media but leaves indelible marks in women's trust towards policing when experienced. The behaviour when exhibited in public online can only lead many us to question the language and abuse carried out in notorious private police WhatsApp groups.
Two Met officers were jailed last year for sharing "grossly racist, sexist, and misogynistic" messages with Sarah Everard's killer, Wayne Couzen's. In December six police constables lost their jobs for being part of a WhatsApp group that shared racist and homophobic comments, derogatory remarks about domestic abuse victims, people with disabilities, and women. How far does the rabbit hole go from online police abuse against women to rampant abusive language in private and outright abuse in the field?
In the hopes of regaining the public's trust in the Met Police, Commissioner Sir Mark Rowley published on Friday his 'Turnaround Plan' that outlines the force's mission over the next two-years for 'More Trust, Less Crime and High Standards'.
Sir Mark Rowley said in a statement unveiling the plan:
"This week we have condemned the appalling criminality of David Carrick and shared the missed opportunities over many years to have taken action.

"I know our communities need to see reform in the Met, on issues of standards and culture but also in how we do more to reduce crime."
Amongst other priorities, the plan focuses on raising standards and creating a greater the ability to identify corruption, abuse and misconduct in the Met. The force is inviting feedback on the publication through an online survey here.
The hour to tackle abusive officers within the Met has long passed and the force has long been on borrowed time. The Labour leader, Kier Starmer, has already signalled his intent for a "a root and branch review" likening the scale of change needed within the force to the policing reforms in Northern Ireland which took place after the Good Friday agreement. The Royal Ulster Constabulary was eventually replaced by the Police Service of Northern Ireland.
Whether such proposals come to pass remains to be seen, however the resulting decision will still likely leave us with the same officers we have today, who will still require challenging and rooting out within the force. The Centre for Women's Justice has long called for the inquiry into Everard's murder to be put on a statutory footing, so that it could examine the wider issues of violence against women within the Met police. Ignored by the former home secretary at the time, Priti Patel, she has miraculously decided to now back those calls last week and support calls for a statutory footing, as detailed last week by Harriet Wistrich, director of the Centre for Women's Justice.
Tackling crime fundamentally requires trust in the police, trust that is in real danger of being lost by women, permanently. The resulting effects of which could set back tackling violence against women decades and cement distrust in young women and girls. Policing can ill-afford serving officers lashing out online at the media coverage and public outrage. Police failure to tackle abuse from within has landed us here. We can only move forward with radical reform and with meaningful accountability. Abusive cultures start and end from within.
Do you agree/disagree? Let me know why? Share your thoughts with me in the comments!
If you enjoyed this article please do SUBSCRIBE and check out my other articles! I'm keen to interact with you all and look forward to suggestions of topics you'd like to see me cover.
Whilst I'm not currently making a paid subscription available yet, I am welcoming of donations to the campaign group that supported and helped free my mother from prison, Justice for Women. If you'd like to tip and support my work and help keep me going this would be appreciated too!