True crime: when voyeurism becomes harmful and exploitative
As internet sleuths swarm the Lancashire village where Nicola Bulley went missing, has our obsession with true crime finally gone too far?
It is now 15-days since Nicola Bulley vanished while walking her dog in Lancashire. Nicola's partner, Paul Ansell, says the family are going through "unprecedented hell" and yesterday stated that he is "100% convinced" she is not in the River Wyre.
As each day has passed media interest has grown, and with it increasing online speculation into questions that remain unanswered. Stirring this speculation has been an army of amateur sleuths and social media influencers who have seen Nicola's disappearance as ghoulish opportunity to descend onto the riverside beauty spot to film and take pictures, whilst posting about their opinions and scepticisms online.
A friend of Nicola, Heather Gibbons, has said "vile theories" being shared online are "incredibly hurtful" for her family. Meanwhile, their arrival has cause significant disruption to the police search efforts with unwanted assistance, to such an extent that lead investigator Supt Sally Riley has said it has been a distraction for the police inquiry. She added: "Nor is it helpful if people, particularly if they come from outside the area, take it upon themselves to take the law into their own hands by trying to, for example, break into empty property."
This has however not stopped the self-titled body language experts, psychics and TikTok 'detectives', who are intent with using the traumatic circumstances to fuel their need to create content. Their involvement led police to issue dispersal order notices on Wednesday night after several men reportedly travelled from Liverpool to search for Nicola. This gave police powers to remove social media influencers from the scene meaning anyone taking photos and video for social media can be sent away.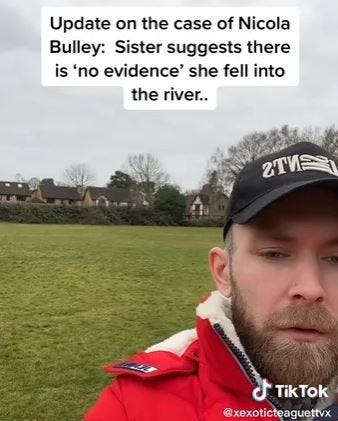 For now, police may have respite to be allowed to keep searching for Nicola in the area, however they still say speculation about Nicola's fate by "so-called experts" is "damaging" to the investigation, as police also played down reports from witnesses, who described seeing a red van they considered to be suspicious in the area around the time Nicola went missing.
Fascination online continues with Facebook groups, YouTube channels and members of the public sharing theories and misinformation that spreads like wildfire, unmoderated and likely to live in perpetuity online, adding further to suffering of the family who just want Nicola back.
The Guardian reported, one Facebook group has amassed 25,000 members in just a few days. It was set up by 18-year-old Ben Thornbury, a college student in Wiltshire who has no connection to Bulley.
"The reason the group was created was because people were going to her personal pages and commenting stuff below them and it's just disrespectful, people saying stuff like she'll never come home. And obviously nobody shuts that down, like Facebook doesn't step in and shut it down," he said. But the group grew far bigger than he expected and within days he had drafted in 15 volunteer moderators working around the clock to remove "vile comments" and misinformation.
Thornbury said: "When they see something on another group, it gets screenshotted and posted somewhere else within seconds and some of the theories are not right. It gets spread like wildfire but people don't check the sources. They assume stuff and they just believe everything they read."
What drives this fascination to speculate online about a case that has real world consequences and emotional impact to a family and friends? It's as if there is an obsessive desire and will for a horrific outcome, a need for this mystery to become a new Netflix documentary or BBC crime drama to obsess over, to revel in the twists-and-turns with others as another form of entertainment.
Over the years crime dramas have long occupied UK primetime TV slots for us tune in and spend our time working out unexplained disappearances or murders in another whodunit. From the uncomplicated police work of Inspector Morse, to honing our skills in the hi-tech forensic world of Silent Witness, the thirst for crime dramas has never waned. If anything, the arrival of streaming services like Netflix and the ability to binge entire series has helped increase that desire to consume and share more.
Netflix however has lead the way in glamourising internet sleuths by humoring their obsessive, and at times dangerous quests. The rise of amateur internet detective documentaries that the platform has produced, such as Don't F**k With Cats and Trust No One, give credibility and encouragement to their acts that cannot be taken back. The ripples of their work are now seemingly seen roaming the fields of Lancashire on TikTok looking for clues as to the disappearance of Nicola.
There is no better display of our need to consume more crime drama than in explosion of podcast listenership that in the UK that has been increasing year-on-year to 21.2 million listeners. The medium of podcasting is highly accessible to anyone with a smart phone and gives them a platform to broadcast their shows to the world. True crime remains one of the top most listened to genres that examines the details of actual crimes and criminals. Often the most common discussed crimes are murders and the hosts will detail the events of the case, reflecting on the outcome. Some of these podcasts offer true learning and insight into fatal domestic abuse as well as awareness of various forms of domestic abuse covering cases responsibly. However, the marriage of the ubiquitous format of podcasting and thirst for stories of crime often attracts hosts who give little attention to the facts and instead create speculation by developing extensive theories in their commentary of the crime.
True crime can be harmful in a myriad of ways. Here are a few reasons why:
Sensationalism: The genre has a tendency to focus on the most shocking and graphic aspects of the crimes, trivialising the serious nature of the offences and the harm that was done to the victims and their families.

Reinforcing stereotypes: True crime stories often focus on certain types of crimes and offenders, which can reinforce harmful stereotypes and misconceptions about crime and criminals.

Reinforcing trauma: For those who have experienced similar traumatic events, consuming true crime content can be triggering and lead to increased feelings of fear, anxiety, and distress.

Impact on victims and families: The families of victims and survivors of crimes often suffer from the long-term effects of the trauma. The repeated media coverage of the crimes can cause additional distress and harm.

Influence on young people: Young people are particularly vulnerable to the effects of media exposure, and consuming true crime content can impact their developing attitudes and beliefs about crime and violence.
Our cultural obsession with true crime begins to inflict harm to the victim and their families when their emotions and the facts of the case are trivalised in pursuit audience entertainment and engagement in speculative commentary.
The social media platforms are part of the problem, incentivising influencers to livestream and to create events online, rewarding influencers for attracting an audience of thousands while they poke around the scene, occasionally harassing other people. In the meantime, platforms like Netflix are only happy to accommodate their successes. However, it begs to question when will true crime and the acts of internet sleuth lead to a dangerous event that can't be undone.
It is arguably time for us to take a step back and consider the impact that our fascination with true crime is having. The voices of victims and their families should be prioritised to ensure that their experiences and suffering are not overshadowed by sensationalism and exploitation. Instead of using the most traumatic events of peoples lives as content to negatively speculate upon, we should focus on understanding and addressing the root causes of these problems and working towards a more safe society.
True crime and the voyeurism it invites may seem harmless but it has the potential to cause significant harm to victims, their families, and society as a whole. It's important to be mindful of the way in which we consume and engage with true crime content and to consider the impact it may have.
Do you agree/disagree? Let me know why in the comments!
If you enjoyed this article please do leave a ❤️ and SUBSCRIBE as well as check out my other articles! I'm keen to interact with you all and look forward to suggestions of topics you'd like to see me cover.
Whilst I'm not currently making a paid subscription available yet, I am welcoming if you'd like to tip and support my work to help keep me going this would be appreciated too!