Campaigning against domestic abuse
As I welcome you to my new space here on Substack, I offer you an insight into my story so far and what the journey as a male victim of domestic abuse looks like as a feminist ally.
A welcome is a greeting normally offered with courtesy and kindness. Whatever is going on in the world, or in our lives, the simple hospitable invitation offered is not only an act of kindness, it is a foil to any trepidations to those who enter our own spaces.
As you take passage into this new personal space of mine here on Substack, you will find my welcome is a title that is curious, if not discomforting: Campaigning against domestic abuse. I have no foil to disrupt what trepidations you have, in fact I encourage them and I ask you to be curious. My courtesy and kindness is to offer you personal stories and writings on domestic abuse, coercive control and male violence, a perspective that invites you to a space to read something different, from someone different.
I am a 35-year-old man, a child victim of domestic abuse, a male victim of intimate partner abuse, a man who campaigned to free his abused mother from almost a decade in prison (and succeeded!), and a man who battles, greets and learns from his scars of lived trauma daily.
Long is road survivors of abuse travel, however the journey I have walked has given me a voice I never expected to have. From the moment I decided to speak out in the national media against domestic abuse I have been welcomed and embraced by a valued community of survivors and incredible people in the sector who not only work to support them but actively fight against domestic abuse day-in-and-day-out.
Campaigning and writing remains an important part of my life. The lived trauma I have experienced privately and in the media has connected me in a profound way to help create real positive change and shed a light on stories that go under-reported. This space is for those stories. This space is for that change to be heard.
Why me?
My story starts with you getting to know me. Whether you're aware of my journey or not, or just curious, this is an introduction as to how and why I came to care so deeply about domestic abuse. My story started by me making the biggest personal decision in my life, to speak out in the media about the traumatic events my family endured in August 2010. It was a journey that helped me define my experiences of domestic abuse and challenged me to put into words in the national media one of the most complex and devastating forms of abuse: coercive control.
It was an average Sunday morning, my mother was dropping me off at a high-street restaurant where I had been working. Everything seemed normal up until the moment I got out of the car. After remaining silent throughout the journey my mother suddenly decided to lean across to the passenger seat, looking up at me before I closed the car door.
"You know I love you, don't you David?", she said.
We were not a family that expressed our love openly. Perplexed, I stood momentarily holding the car door open. I was taken aback and confused.
"I know. I love you too", I responded quickly, almost as if to usher the unusual and uncomfortable moment away.
I walked on, registering further in my head that this was out of her character. The way she locked eyes with me, the genuine hope in them if only to impart and ensure that I knew that she loved me, and more importantly that she needed me to acknowledge that before leaving. Why would she do that? Again, I ushered the moment away, I was about to walk into the restaurant to work a busy Sunday.
Hours later, mid-shift into waiting tables during a busy lunch service I was told by my manager to go upstairs to the staff changing room and wait for him. I waited, walking in circles I trawled through every moment in my head of the service I had done so far, desperately trying to decipher what I had done wrong. What could warrant me being taken off the floor mid-service, to be spoken to separately? As I continued to walk in circles in the tiny staff changing room I kept a fixed eye out for my manger's arrival through the small window in the door, down it you could see the corridor that lead to the stairs below, off to the right. I took my eyes off the window for a moment, looked up again and heading directly at me at speed through the corridor was my cousin, Noel. Towing close behind her towered a tall uniformed male police officer. Stunned at the combination of both these two people together I braced myself. I knew whatever she was going to say it was going to hurt. I stopped moving and stood firm. Noel stormed through the door and grabbed me firmly on my shoulders and delivered her message:
"David, your dad's dead."
I instantly believed. I exploded with emotion. Then hit a tidal wave of tears. I hit out at the lockers, I kicked whatever was on the floor and I was screaming in grief. I felt like a drunk tornado violently collapsing in on itself as I slowly fell to the floor, overcome with emotion. No questions of why or how he died came to my mind in that moment. Instead, I immediately remembered the last words I said to him, the worst verbal torrent of abuse that ever came out of my mouth that I said to his face almost a year earlier. That was the last time I saw him. It was the moment my mother and I left the family home for the last time. I was angry at the way he had treated my mother for years, being verbally abusive, psychologically abusive, adulterous and overall unrepentant for a litany of acts that at their worst made my mother question her own sanity in front of me countless times. She was my mother, I was his son, his attacks on her confused me. Why would he unravel the sanity and mind of someone so kind and loving towards himself, let alone attack a pillar in the lives of his children whom she loved dearly.
This behaviour would later be recognised as coercive control, a form of domestic abuse and pattern of acts that seek to control every aspect of a victim's life. I witnessed my father bully and humiliate my mother, isolate her from her friends and family, controlled who she could socialise with, controlled her money, restricted her movement and created a culture of fear and dependency. My father fed into my mother's mind that the abuse she was suffering over 40 years was normal.
Coercive control is ultimately the most insidious and unreported forms of domestic abuse. It was made an unlawful act as of 2015 in the UK. Today, four in 10 (43%) British adults say their understanding of coercive control is poor or non-existent. As many as 1.5 million do not report and for the 50,388 offences recorded between April 2020 to Sept 2021, only 3.4% were charged. We are still in the dark ages of tackling domestic abuse. However, back in 2010 there was no such language, it didn't exist. All I could describe what I witnessed in my victim impact statement to the police was 'toxic' or 'bad' behaviour from my father, all we could do was escape it.
My verbal tirade against my father were the last words I said to him, his open-mouth astonishment at hearing what I said to him are the lasting memory I have of his face, I was racked with guilt because I could never change that. I had challenged him in arguments in years before about his behaviour towards my mother later in life, I came away shocked. No matter how superior the moral argument you had, nothing would land. If anything he warped your senses and made you question yourself again and again. In those moments I witnessed the true terror of what my mother was up against. He was Teflon, he was unrelenting. Still, he was my father.
A fog of events ensued after I left the restaurant to head back to Noel's home in a police car. As we drove I sat in the back and heard the police radio. I could make out they were checking on my mother's welfare. It had transpired she was on Beachy Head, a famous suicide spot. She was on the cliff edge trying to force herself to jump and end her life. I sat waiting, clutched in the arms of Noel on her sofa for hours, rocking back-and-forth, confused as to how I had got here. In the blink of an eye it felt like I was being made parentless and there was nothing I could do but wait for it all to be over. The why and how were now the only questions in my head.
Eventually my mother had been talked off the cliff and was now in police custody. She didn't jump because of her children, that was the message I received years later from the chaplain who talked her down.
I would later learn she had killed my father with a hammer in the family home the day before and that when she was taken into custody she was arrested for his murder. After deciding to leave him and live separately for a year, my mother struggled to live her life after the abusive control she endured. Having met my father when she was aged 16 and he 21, he was the constant male figure over the next 40 years of her life, controlling her and making her dependent on him. As I lived with her in the year after she separated from my father, I could see her struggle to survive mentally, though she was remaining strong. My father soon learnt of her struggle and offered her a way back together: he asked her to sign a post-nuptial agreement that he drew up denying her rights to the marital home, forbidding her from interrupting him or speaking to strangers. It was the ultimate power grab for control that would leave her as vulnerable as she had ever been. Today, this would be seen as an act of post-separation abuse, now recognised in the Domestic Abuse Act 2021. Back then, it looked like a failed man trying to get back a woman who had taken a stand against him. I was proud of her. I saw a strong woman despite her struggle. I shot down her idea of potentially signing the post-nup. I thought she knew better than to sign it, every other family relation and friends' sentiments were the same. In reality none of us knew the extent of control my father wielded over my mother, or how much it had warped her mind. Without the language of coercive control my mother was an unprotected and vulnerable woman. She was going to sign it. I was now being left out of the loop.
The loss of control my mother experienced that lead her to kill my father was not recognised in the original trial. My mother didn't know her own reality away from my father, when he offered her a way back together the post-nup was abusive, when she was with him again he was abusive, her mental survival threatened she struck out at her abuser, my father. Instead, the original trial painted my mother as a vengeful jealous woman and she was convicted of murder. Nothing I could say on the stand as a child victim who witnessed this abuse could have changed that judgment, we were not afforded the protection in society to call these controlling acts as abusive. We were affectively silenced. My mother was sentenced to 22 years in prison.
Seven years later I received an email from my mother's new lawyer, Harriet Wistrich, co-founder of Justice for Women, an organisation who support women imprisoned for killing as a response to domestic abuse. Harriet had been working for some years on my mother's case to find a route to appeal her murder conviction. The term coercive control appeared in my inbox from her. My mother's life had been determined to have been lived under the duress of coercive control. This provided a framework to understanding the events that led to my mother's loss of control. That, along with new psychiatric reports diagnosing my mother with bipolar disorder and dependent personality disorder provided new evidence and my mother a route to appeal. I had never read or heard about this term, coercive control. That we now had a vocabulary for the acts she experienced and I witnessed, left me reeling with anger. Why were we not afforded this protection at the time or sooner. I have always said if I had this vocabulary I would have reported my father myself.
Compassion for my own experiences of domestic abuse has always been a struggle for me, ultimately I am a child victim of domestic abuse, but I still struggle to readily offer my own experiences before that of my mother's. To know me has always been to know my mother first. My journey today is now to know me, and know of my own experiences of coercive control, as well as the long-term affects of witnessing it.
Children have only been formally recognised as victims of domestic abuse in their own right as recently as the Domestic Abuse Act 2021. The importance to center children's experiences of abuse has never been more vital than it has today. Many adults who currently walk the earth have witnessed abuse as a child, they need compassion and awareness that there is support for them, that they are victims too. Trauma left unchecked can have boundless detrimental effects especially to children as they grow up. I have battled severe depression since the age of 17 and battled addiction.
The campaign
2018 was the moment as a son I felt I could finally make a difference. As I started to accept media invitations following interest in my mother's appeal I spoke out, training myself to be succinct and lead interviews to get the voice of the campaign across. I actively pestered every TV and radio producer and journalist going in our media campaign, almost daily, sometimes it worked and paid off. I learnt how to spot the good honest journalists and producers from the outright deceptive and ones who guilt tripped so far as emotionally blackmail you to speak to them. Of course the journalist who knocked on my door several times turned out to be from the Daily Mail, I just didn't expect a call at 8am asking me to explain why I didn't speak to her when we did a story elsewhere. Keeping the campaign in the media after our appeal court date was pushed back made it even tougher. It was a learning curve that was unforgiving, but I was determined to conquer it, so far as much as to write my own bylines on the campaign and later about domestic abuse stories more generally. It is work that has since helped me reflect on the affects of media reporting of domestic abuse, something I wrote about with other survivors in The Telegraph.
Soon after, national domestic abuse charities connected with me and supported my voice online and in person. Invited to attend the Women's Aid National Conference, I found myself in a room filled with a women affected by domestic abuse and committed to tackling it. Asked to interrupt a panel discussion that was short of time to talk about my story, I stood at the lectern facing a sea of women. Immediately I felt marginalised for the first time in my life as a man, acutely aware I was taking time in a privilidged space. I spoke about my story and my campaign to recognise my mother's abuse in order to free her. Immediately from that moment I felt the welcoming outpour of emotion and embrace from women in the domestic abuse community, who I soon learnt were all fighting for more awareness of coercive control and for their stories to be heard. My mother's experiences and that of mine witnessing it were not unique, I had suddenly taken on many more voices in my campaigning and I was glad to have their support.
Further invitations to speak during the campaign came from the Coercive Control Conference where I met Professor Evan Stark, the author of Coercive Control: The Entrapment of Women in Personal Life (Oxford, 2007), and who gave evidence in our groundbreaking appeal. His words offered me a perspective that was truly innovative in it's thinking behind domestic abuse and coercive control and whose work and voice should be valued in this space. His voice remains the only one to draw an audible "ahh" of relisation from a crowded room when explaining coercive control. It is at this conference I also learned of the rampant coercive controlling behavior taking place in the family courts. Meeting the victims behind those horrific stories made a definitive impact on me and still does. Secret courts operating behind closed doors carrying out judgments that hand children to abusive parents amounting to state sanctioned abuse that still happens today.
Each domestic abuse conference I attended helped educate me as a man to the experiences of women. At times I felt like a woke bloke, but when faced with the statistic that 97% of women aged 18-24 in the UK have been sexually harassed it invoked in me a sobering insight into the lived experiences of women, an insight that every man should take the time to listen women's voices in these spaces and understand their lived experiences. I say man, because violence against women is perpetrated almost exclusively by men. I say men, to engage a conversation and ask why is it mostly men who are committing these acts of violence and what can we do to help confront these men who we may come across in our daily lives. How far away is a misogynistic and sexist joke made in front of mates to coercively controlling behaviour towards their partner behind the closed doors of their home? Is what we label 'bad' or 'toxic' relationships we witness today in reality actually abusive and needs action? Only until we label coercive acts as abusive does the onus become on us to act, rather than to stand back, watch and gossip because it's just another toxic relationship. Our perceptions need to change so they must be regularly challenged to create that change. What conversations are we as men having with one another to confront abusive attitudes in our own social groups and families? Does it need to be a confrontation or can this work be done with open discussion and open questions that help highlight our internal misogyny/sexism, an act to help one another be aware to the abuse behind their words? My work has defined me as a feminist ally, through the rooms I have sat in and the women who I have heard speak, these stories and voices have stuck with me, their life's work to battle injustice and inequality is one I readily and steadfast support to this day.
I am also a male victim of domestic abuse. On both occasions the perpetrator was male. The first being my father, coercing me to believe my mother was going mad. Pointing at her asleep on the sofa gaslighting me to believe that her standing up to him in arguments was a result of alcohol and she was going mad, he said she was drunk as she slept, when in fact she had one glass of wine and she was snoozing on the sofa after a long day of work and running the household he lorded over. In reality whenever she was drunk the alcohol gave her the confidence to speak out and demand the truth through the endless lies and gaslighting she was peddled, my father more often than not had driven her to that behaviour. His intimidation only surmounted with the help of alcohol. It was a cry for help. On the second occasion the abuse I suffered was from a male partner in my twenties. He gaslighted me to think my friends didn't care about me and warped my mind to accept his abusive behaviour as normal. This behaviour I still struggle to verbalise to this day but in time I know I would like to share, if only for those male victims who need to be seen and heard. I directly referenced my mother's relationship at the time and deemed if this kind of relationship was acceptable to her, it was for me too. And thus the cycle of abuse continues.
The appeal
I campaigned relentlessly for over 2 years to bring to light a true understanding of the events that led to my father's death rooted in domestic abuse, it required absolute obsessiveness to do all I could so not to look back and think I could do more. It felt impossible for me to close the door behind me and not carry on that work, to ignore the male perpetrators behind these acts.
On the 28th February 2019 we successfully quashed my mother's murder conviction in a landmark appeal over two days that made national headlines. It was the moment I never allowed myself to think past, no matter how many times journalists asked me. Until it happened I would not entertain it in my mind for a moment. Countless victims of abuse and those affected by our story came to support us at the appeal. So many in fact that it forced the hearing into the biggest court room possible. I was and am still grateful to every single one of those incredible people who came over those two days.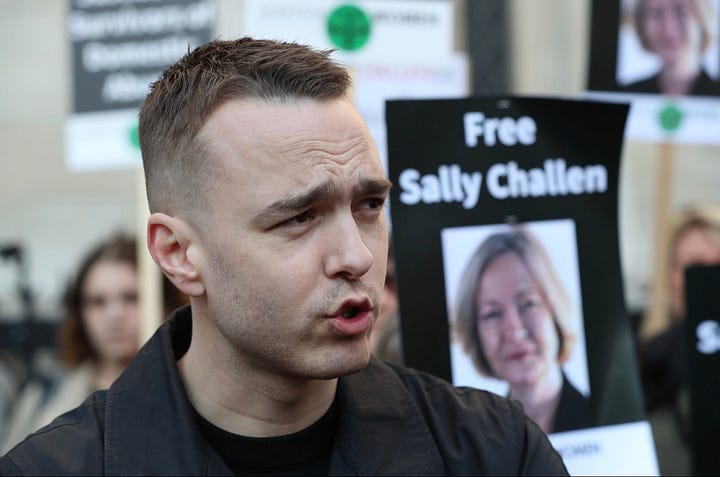 In June later that year my mother was released from prison on the grounds of diminished responsibility after the CPS accepted her manslaughter plea. She was finally returned to the family, freed after almost a decade in prison and almost a decade early. It is an outcome that came not from just speaking out but from the tireless pioneering work of Harriet Wistrich, Claire Wade QC and Justice for Women that made this possible.
The case represents a battle I have personally fought for 12 years since the age of 23. A fundamental battle to survive. For almost 8 years my mother was in prison, most of those involved me visiting her in prison visits, taking her calls at home and fighting rampant depression that beckoned me into the darkness to no end. No services reached out to me, there was zero support. For as long as my mother remained alive I had to too. At times I resented that. I often would tell her as little information about my life as I could. It was cruel and it was hard, but the more I shared, the more I died inside. I knew I had to get to the end in one piece, wherever that end would be. When I could speak for her in the campaign, I did. We didn't speak about what I had experienced, but when I did and when she heard me on the radio sharing it she was shocked about what I had seen and witnessed.
Throughout the campaign I was followed by a BBC Two documentary team who captured mine and Justice for Women's work to free my mother. The documentary, The Case of Sally Challen aired in December 2019 and remains a crucial insight into the inner legal workings of such a complex case to get to appeal and win.
The legacy of campaigning
My mother's case to many seems isolated or unusual, it is very important to say this is not true. In 2021 the Criminal Cases Review Commission sifted through 3,000 cold cases in the wake of my mother's landmark case and has so far identified at least five cases that are undergoing further investigation and could be returned for appeal. Linda Lee, one of the CCRC commissioners said:
"This is not a static number. Investigations are continuing, and hopefully it will go up as more cases are identified,"
"We are looking at murder cases where coercive control may have had a serious impact on events but wasn't raised because nobody recognised it or thought of it at the time."
It is best perhaps put by my mother, who upon being recognised as a victim of abuse and set free said:
"Many other women who are victims of abuse and violence are in prison today serving life sentences, and I know this because I have met them. They have suffered abuse and other miscarriages of justice and should be serving sentences for manslaughter and not murder."
My mothers' case offers an insight into domestic homicide (of my father) rooted in the domestic abuse of the perpetrator (my mother). I am the son of both the deceased and the person that killed him in this crime. As a son I have not only lost a mother, I have lost a father.
The campaign not only helped free my mother, it helped also give voice to many countless victims of coercive control whose experiences weren't understood in the public or media. Understanding the severe mental trauma caused by domestic abuse, that a victim can present well without broken bones or bruises, is one of the most important aspects of our case. My mother did not look or present as a victim of domestic abuse in the original trial, in turn her case opened the door and all of our eyes to realise the fact that anyone can be a victim, man or woman, big or small. The mental impact is devastating. There is still so much work to be done to raise awareness of coercive control, it remains a tectonic size shift in our understanding of domestic abuse, in the public, policing and in the judiciary. My belief is that every case of domestic abuse has coercive control. An estimated 2.3 million people in England and Wales experienced domestic abuse in the last year, when compared against only 50,000 reports of coercive control, we are admittedly still in the infancy of recognising coercive control on a national scale. If we have the time and the care to hear survivor stories we can learn to spot the signs and tackle it. We are all CCTV cameras that have the ability to spot abuse, log it and sign post victims to support. In the same breath we are all able to spot these abusive acts to call out that behaviour as abusive
---
My work has since been to continue to support survivor voices and the stories they wish to share, as well as to continue to push for lasting change. From supporting women whose offending, like my mother, is rooted in domestic abuse and supporting proposed laws to recognise and help those women, to acknowledging migrant women who urgently need to be afforded the same protection as all victims against domestic abuse. There is huge amount of work to do.
Today I am a proud ambassador for Prison Advice and Care Trust (Pact), after visiting my mother in prison for almost a decade I value the experiences of prisoners and their families and the continued need for better support. I am also a supporter of the National Centre For Domestic Violence an organisation that acknowledges the legal aid barriers that exist for victims of domestic abuse and help to provide the legal support these people need to protect themselves. I am a firm advocate of the greater need for legal support for victims of domestic abuse as legal aid cuts and cuts more generally to the criminal justice system have created horrendous barriers to access to justice for vulnerable victims.
Why Subscribe?
I am not a journalist nor a prolific writer, I am a man with the lived experiences of domestic abuse who continues to campaign and speak out, learn from others and actively work through and understand the trauma he has endured. My work has lead me to publish my writings on multiple news outlets from The Guardian, Al Jazeera, The Times and The Telegraph and many more, but here I want the freedom to explore stories in more depth and do some things different. Some articles will be short reflections, others deep dives, all intended to give a perspective to you that is not widely covered. Who knows, maybe an audio interview with people I greatly admire could be in the future. Everything and anything is possible, so subscribe and find out.
Whilst I'm not currently making a paid subscription available, I am welcoming of donations to the campaign group that supported my mother, Justice for Women. If you'd also like to buy me a coffee to keep me going this would be appreciated too! More importantly, if you've enjoyed this post please let me know in the comments as I'm keen to interact with the community on Substack!